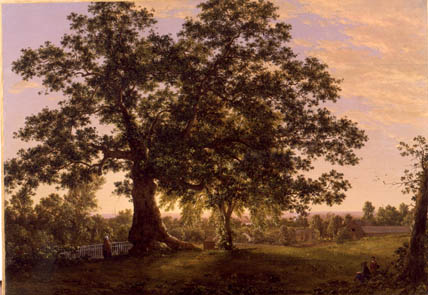 Frederic E. Church (1826-1900)
The Charter Oak at Hartford, c.1846
Oil on canvas, mounted on masonite,
24 x 34 1/4"
Signed lower left
The Charter Oak is a symbol of the spirit of independence that began the American Revolution. In 1687 Connecticut stood alone in New England in defying James II's orders to relinquish a 1662 charter that had given the colonies a degree of self-government. Legend has it that candles went out suddenly at the showdown meeting and the charter vanished – into a hole in the ancient oak down the street – and so the king's deputies were foiled. Frederic Church of Hartford, Thomas Cole's only student, became the leading American landscape painter of the mid-19th century. He painted this Connecticut icon early in his career and chose not to show the famous cavity or the Wyllys family mansion at the site. His tree dominates a flourishing Connecticut landscape, like those that would soon be celebrated by other artists.
---
George H. Durrie (1820-1863)
Summer Landscape, 1862
Oil on canvas, 22 x 30"
Signed and dated lower left
Fellow Hudson River School artists generally painted pure landscape, but New Haven's Durrie was one of the first to show that the Connecticut countryside had inhabitants, who were nurtured by the land. In the 1700s, American artists depicted farms as visual inventories of a farmer's possessions. A century later, Durrie shaped the same elements into a landscape setting that affects people physically, emotionally, and spiritually.
His idylls seemed faithful representations of 19th-century rural New England to many who saw Currier & Ives prints of his work. Some people must have known that he was painting a lovely myth, but only art critics seemed to mind.
---
John Williamson (1862-1885)
Wallingford, Connecticut, 1867
Oil on canvas, 10 1/4 x 16 1/4"
Inscribed, signed and dated lower right
Williamson lived in Brooklyn, New York, but most likely he visited Wallingford on his way to or from northern New England. This scene is more intimate and has a closer viewpoint than his other paintings.
The trees that dominate in so lively a manner are a reminder that Williamson was also a fine still-life painter, who depicted flowers growing outdoors in the Pre-Raphaelite manner advocated by the Englishman John Ruskin. The painting's size, brushwork, and clarity of light indicate that it was almost certainly painted outdoors. The spirit of place is palpable, and is underscored by the inscription at lower right.
---
Marie Theresa Gorsuch Hart (1829-1921)
View on the River, Farmington, 1866
Oil on canvas, 10 3/4 x 20 1/8"
Signed and dated lower left
Marie Theresa Gorsuch, a Baltimore native, spent the summer of 1865 in Farmington painting with the prominent New York artists James Brevoort and James McDougal Hart. In August, the announcement of her engagement to Hart thrilled the village. The two married the next year.
This painting exemplifies the preference of the late Hudson River School for closer viewpoints and smaller, more humanized scenes. The hushed air of tranquility in such paintings may be linked to the nation's collective sigh of relief when the Civil War finally ended. After her husband's death in 1901, the artist lived out her very long life in Lakeville, Connecticut.
---
George Loring Brown (1814-1889)
Norwalk Island, 1863
Oil on paper mounted on canvas, 14 1/2 x 21"
Signed and dated lower right
For years Brown lived in Italy where his lush scenes of ruins and mountain lakes were popular with both Americans and Europeans. In the early 1860s, he returned to his native Boston and visited Connecticut to paint views of the Norwalk Islands.
These paintings differ sharply from his Italian work. The subject matter is homier, the viewpoint closer, the colors brighter, and the light clearer. Brown's custom in Italy of using color patches to emphasize effects of light and dark is seen here only in the foreground. Other areas such as the pole with a pennant, marking an oyster bed are closely observed. A note on the back says that this scene was painted outdoors.
---
John F. Kensett (1818-1872)
Shore of Darien, Connecticut (Long Island Sound from Fish Island), 1872
Oil on canvas, 12 x 20"
Signed lower right
In 1867, Kensett, a Connecticut native and well-known Hudson River School painter, bought land on Contentment Island near Darien. The realism of his early work had already given way to a greater emphasis on the effects of light. Now Kensett developed an aesthetic that blended accurate observation with spare compositions, low-key colors, and nuances of atmosphere and light.
He painted this scene (and himself doing so) on Fish Island near Contentment. Dazed by the Civil War and the nation's rampant industrialization, Americans were looking to nature for solace. Kensett's art had a spiritual serenity that they appreciated.
---
David Johnson (1827-1908)
View near Greenwich, Connecticut, 1878
Oil on board, 13 7/8 x 19 3/4"
Signed and dated lower right
A picturesque fishing scene is marred by a train in the distance. Did the artist realize that the railroad would shortly end fishing as an occupation here and all but destroy this tranquil place? The artists who followed him to the area in the 1890s were confronted by more telling evidence than that hinted at in his painting.
Johnson, a late Hudson River School artist, painted at least six Greenwich and Cos Cob scenes between 1878 and 1889. He was in the area as early as 1869, when he made a view of a Greenwich estate owned at the time by the infamous "Boss" Tweed.
David Johnson (1827-1908)
West Cornwall, Connecticut, 1875
Oil on canvas, 16 1/4 x 13")
Signed and dated lower right
Johnson, a New Yorker, was a prolific painter who worked not only at home but in Virginia, New Jersey, and all six New England states. In Connecticut he painted in Greenwich and Litchfield County.
His rustic West Cornwall Bridge looks barely functional. That its single vertical support merges uneasily with its liquid reflection adds to the feeling of fragility. The boulders, scattered by glaciers centuries before, and the more recently fractured tree trunks, speak volumes about the power of nature. Reverence for nature was an idea well fixed in the national consciousness.
---
John Ludlow Morton (1792-1871)
View of the School House at Greens Farms, c. 1840
Oil on canvas, 18 x 24"
Signed and inscribed on the reverse
This Adams Academy schoolhouse, which still stands, was just three or four years old when Morton, a well-established portrait, history, and landscape painter, depicted this scene. A lifelong New Yorker, Morton appears seldom to have ventured beyond the Hudson Highlands. He may have visited Greens Farms, near Southport, Connecticut, to see why it had become a popular resort. The school held summer sessions that were well attended by the vacationers' children. Morton juxtaposed sedate scholars (was any school recess ever so calm?) and fellows going to or coming from a shoot in a sporty open carriage, their high spirits reflected in the buoyancy of their horses and dogs. Lush farmland is in the background here. This Connecticut place is mainly for schooling and sport.
---
Fidelia Bridges (1835-1923)
Thistle in a Field, 1875
Oil on canvas, 14 x 10")
Signed and dated lower right
Bridges made precise renderings of flora and fauna in their outdoor settings, so she needed to paint in the open air for hours at a time. Custon required her to dress and behave there as though she were at home in her parlor. Women artists were not allowed to be "bohemian."
This oil, a departure from her usual medium of watercolor, was probably done in Stratford, Connecticut, where Bridges often summered in the 1870s. Her work was exhibited widely, and she was elected an Associate of the National Academy of Design. She spent her last years in Canaan, Connecticut.
---
Worthington Whittredge (1820-1910)
A Farmer's Garden in Simsbury, c.1875
Oil on canvas, 15 x 9 5/8"
Signed lower left
Whittredge, a Hudson River School and Western artist, painted this Simsbury scene in about 1860, while visiting a patron. The canvas is bed ticking, so he may not have come intending to paint. The work is a sharp departure for him both in subject matter and design. Perspective lines stop short of the horizon. The cabbage row rushes the eye to the convergence point, then up a tree to the sky, while the line of trees exerts a counter thrust to the right.
Three decades later, Connecticut Impressionists would regularly create designs that play fast and loose with traditions about focal points, symmetry, and spatial depth. In Simsbury, Whittredge may have been in a holiday mood that inclined him to experiment.
---
Henry Pember Smith (1854-1907)
Old Homestead on the Turnpike, c. 1889
Oil on canvas, 12 x 16"
Signed lower left
Smith, a Waterford native, often depicted Venetian palazzos but returned to Connecticut to paint idyllic country scenes. Several are strikingly similar, including a Dutch Colonial house, a dooryard with stone wall or fence, sheltering trees, and ducks or geese ambling down a dirt road. Clearly, this image struck a chord with the public or Smith could not have sold so many variants of it.
Americans were exulting in the belief that the nation would become a world power but worried that the principles of the Founding Fathers might erode as a result. Old homesteads had survived, went the thinking, and so, too, would America's independent spirit if people held fast to the old values.
---
Nelson Augustus Moore (1824-1902)
Apple Orchard, 1878
Oil on canvas, 18 x 28"
Signed and dated lower left
This Kensington, Connecticut, native referred to himself professionally as N. A. Moore. He wanted to work mostly in his native state, but he needed to move about in order to make a living. He had given up a flourishing daguerrotype business in Hartford in order to paint full-time. For more than 20 years he summered at Lake George, New York, where tourists ordered large versions, to be delivered later, of the small oil sketches he painted and showed them there. If he had enough orders to keep busy all winter, he went home to Kensington. If not, he set up winter studios elsewhere, often in Hartford but sometimes in New York and other large cities. Hartford claimed him as a local artist whenever he was there. He painted many pastoral views of the Connecticut landscape.