Every Sunday from April through December, visitors of all ages are encouraged to participate.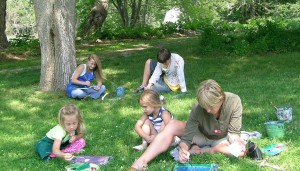 Discovery Sundays, which are FREE WITH MUSEUM ADMISSION, begin in the Education Center where visitors can choose from a variety of hands-on activities. In good weather, guests can even paint "en plein air" (in the open air) just as the artists did over a hundred years ago. Supplied with canvas, palette, paint, brushes, a smock and a quick lesson in color mixing and painting techniques visitors discover for themselves why Miss Florence's was THE place to paint!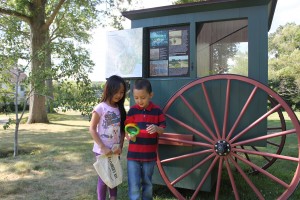 Next, head out to the new Art Cart. Inside you'll find five types of Explorer Kits. Try them all! Each kit guides families to explore the grounds and its connection to the artists who famously painted here.
Also, Can-You Find Me? cards in the gallery and a scavenger hunt in the Florence Griswold House. We dare you to be bored!
Please note that we suspend painting during our Wee Faerie Village event, October 1 through November 1.
Send us photos of you having fun during Make a Painting Sunday or artwork that you created at the Museum and we will upload them here. Email no more than 3 jpeg images, each no more than 1MB, to Tammi@flogris.org.
Make a Painting Sundays are made possible, in part, through a grant from the Institute of Library and Museum Services.